This is an old revision of the document!
---
HORDE: How to check my e-mail quota
a) Login on horde, this is the horde login page:
https://webmail.sissa.it/horde/login.php

b) On the left sidebar, select the Mail item.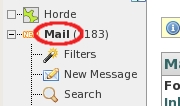 c) Depending on the setting of your preferences, you will find your quota status in one of the following positions:
c1) on the top of the left sidebar;

OR
c2) on the center/top of the webmail page.