This is an old revision of the document!
---
Check your Thunderbird configuration (v. 10.x - examples on Linux o.s.)
WORK IN PROGRESS. PLEASE DO NOT READ THIS PAGE JET……. Upgrading thunderbird version, some configuration could be involuntarily and automatically modified. We suggest you to check account settings parameters.

a) On the main thunderbird window:

1) in the top of the window click on the Edit menu;


2) then click on Account Settings.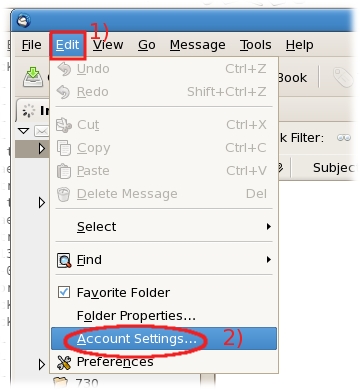 b) In the Account Settings window:

1) on the left of the window click on the Outgoing Server (SMTP), then the content of the window will change on the right;


2) to edit the SISSA Outgoing Servers Settings (select it if you have more then one), click on Edit button.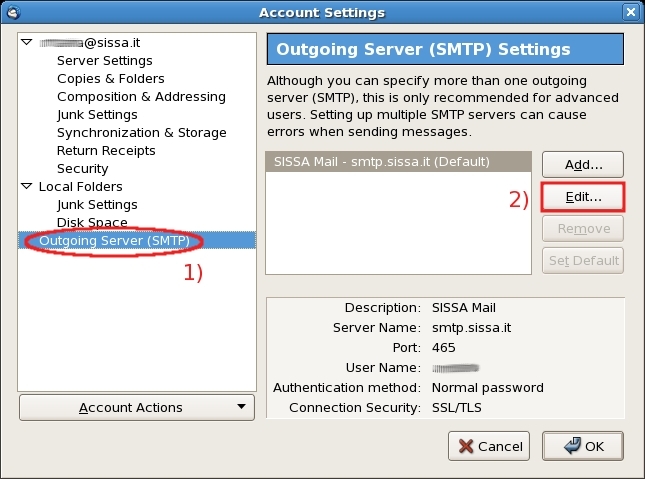 c) Please check the content of your SMPT Server window with the content (values into fields and into drop down lists) of the following example:
Modify your settings if it is necessary, at the end confirm them clicking on the OK button.
Server Name: smtp.sissa.it
Port: 465
Connection security: SSL/TLS
Authentication method: Normal password
User Name: your SISSA username (in this example the username is hidden due to security reasons).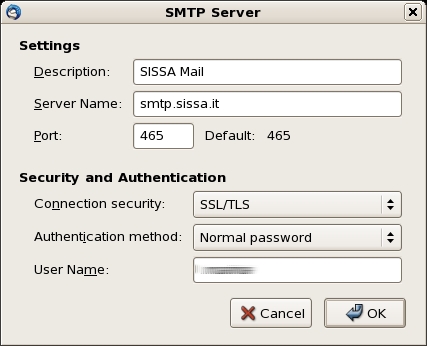 d) After checking your Outgoing Server settings, give a look to Server settings.

On the left of the Account Settings window, click on Server settings.
Modify your settings if it is necessary, at the end confirm them clicking on the OK button.
Server Name: smtp.sissa.it
Port: 465