How to use contacts & contacts list of my addressbook using HORDE
To send a new e-mail using contact list or contacts already present in your addressbook.

---
a)
1) into the To: field of a New Message window, start to write your contact list name or contact name (in the example coll);

2) the horde webmail service will show you a drop down list with all the possibilities available (in the example there is contact name and a contact list).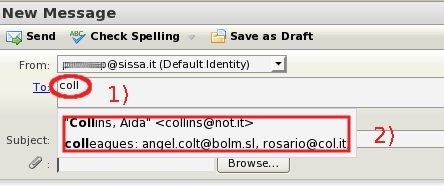 b) Select your contact list name or contact from the displayed drop-down list (in the example the contact list colleagues is chosen).