This is an old revision of the document!
---
SISSA Wireless Network
Security - You are not allowed to:
install your own wireless access point and connect it to the SISSA wired network;

set your laptop wireless NIC in ad-hoc mode, thus behaving like a wireless access point, when connected to the SISSA wired network!
Networks and profiles
Separate wireless (SSID) networks have been created for different user profiles, in order to handle varying access privileges:
SISSA-Guest (SISSA short term-visitors - web unencrypted authentication for web access outside SISSA only). This profile is not allowed to access any SISSA internal network resources - ex: printing, connection to SISSA workstations…

SISSA-WiFi (SISSA students, faculty and long-term visitors, full access to SISSA internal network resources)

eduroam (users belonging to a federated eduroam institution - see below)
Access requirements
Users wishing to make use of the wireless connection must:
1) have a PC with an 802.11 b/g wireless card which supports WPA2/Enterprise;

3)

have changed your SISSA password during the last six months

, please read

change password page

for more information;

4) if you are using Windows XP you need a third-party client software to connect to WPA2 networks (see below)
Configuration
Configuration parameters for connection to SISSA-WiFi are:
authentication: 802.1x/PEAP/MSCHAPv2 (without user certificate), or 802.1X/EAP-TTLS/PAP (deprecated)

encryption and key management: WPA2 (AES)
Windows XP

→ Windows XP buggy WPA2 support: you need to install wireless network card manufaturer's client software in order to access SISSA-WiFi!
Access problems: trouble-shooting
If you encounter any problems while accessing the service, you should make sure that:
your wireless card driver is correctly installed and updated to the latest version available,

the wireless card is activated,

the network is identified with SSID SISSA-WiFi or SISSA-Guest.
---
Eduroam

What is eduroam?
eduroam (education roaming) is the secure, world-wide roaming access service developed for the international research and education community.
eduroam allows students, researchers and staff from participating institutions to obtain Internet connectivity across campus and when visiting other participating institutions by simply opening their laptop.
Having started in Europe, eduroam has gained momentum throughout the research and education community world wide. Currently there are four regional eduroam confederations (for a detailed view of the countries that belong to each confederation, select the regional confederation above):
European eduroam server coverage
The map below depicts the European countries that have connected their national top-level RADIUS servers to the European top-level RADIUS server (ETLR).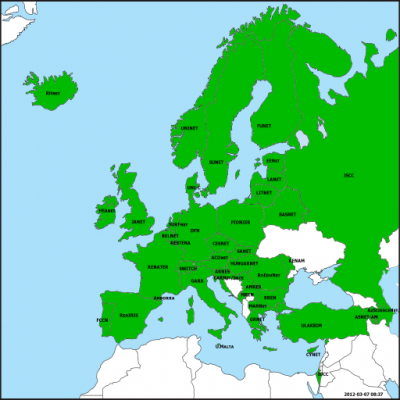 Data are being gathered by the eduroam Operational Team to produce a real-time Google Map
In Italy the Italian Eduroam Federation is managed by GARR Consortium (http://www.garr.it) and includes more than 70 organizations/universities. You can check the updated list of federated organizations here: http://www.servizi.garr.it/index.php/it/eduroam/elenco-istituti-aderenti1
SISSA and eduroam
Since SISSA is member of the Italian Eduroam Federation, guest users that belong to federated institution can connect to SISSA network using their own credential (username and password). Also SISSA users, when visiting other federated institutions, can connect to the hosting network using their own credentials.
SISSA Users
When visiting other federated institutions, SISSA's users can connect the hosting network using the wireless id 'eduroam' and using their own SISSA credentials (username and password).
Be careful to always add the realm @sissa.it when entering your username. E.g. if your username is 'bianchi' always insert 'bianchi@sissa.it'
The configuration of your computer is the same you use for WiFi connection in the SISSA buildings, exept you have to use 'eduroam' ssid and you must take care to always set your real username (with the realm @sissa.it) as the outer identity.
Guest Users
Guests users that belong to a federated institution can connect to SISSA network associating to the 'eduroam' wireless id, and using their own credentials. Again remember to always add your institution realm after your the username, in the form username@domain.tld.
E.g. if your username is 'white' and your institution top-level domain is 'cam.ac.uk' (the university of Cambridge in this example) always login using 'white@cam.ac.uk'.
As a golden rule, you need to configure your device only exactly once, as instructed to by your home institution. From then on, you can use all eduroam hotspots world-wide without reconfiguring anything.
Exactly how to configure your laptop or other handheld device for eduroam will depend on
which device(s) you are using and

your institution's local identity management configuration
If you know that your school / university / college does provide eduroam, please ask the IT staff for support with setting it up on your laptop or other devices.
Important: the configuration instructions are specific for your institution. It is not helpful to follow configuration instructions of other institutions; the settings are different from institution to institution and you will very likely misconfigure your device if trying third-party configurations.
If you are not sure whether or not your institution provides eduroam, the National Roaming Operator for your country may be able to help with your enquiry.
---
Trieste città universitaria

The Comune di Trieste in collaboration with Spin srl, Universita' di Trieste and our School has inaugurated " Trieste città universitaria senza confini " allowing all students (in our case all SISSA users) to browse free all around the city center.
15 access points installed in several pubs and bars are available, you can see all the details on GoogleMaps
To access the citywide connection you should select TS-Citta-Universitaria as SSID from the list of available networks and then use your SISSA username and your SISSA password.
Please note: you have to insert your SISSA username followed by sissa domain (example jdoe@sissa.it) for the correct authentication.
The configuration of your computer is the same you use for WiFi connection in the SISSA buildings. You can find all the details on how to configure authentication, encryption and key management in the chapters following.
Take also a look at the official brochure (italian) tcu.pdf